[Guest post by Aaron Worthing; if you have tips, please send them here.  Or by Twitter @AaronWorthing.]
Note: This post was retitled. Originally it was a round up on pre-resignation news, called "Weiner Links" and the news of Weiner's resignation broke seconds after I posted it. That post will follow, under the fold, as is, but above the fold we will concentrate on the Weinerfreude.
Also updates will be constant, so keep scrolling down.
Update: Facepalm-facepalm-facepalm, how did I forget to thank Lee for covering this, especially over the memorial day weekend when all of you were out there grilling? The whole body of work was important, but he seems to have extra affection for this post.
Hey, let's have a musical interlude:
Anyway, sorry for the omission, Lee. Can I plead a too-quickly-moving story and lack of caffeine?
Update: Literally just after I hit "post," I saw this:
Representative Anthony D. Weiner has told friends that he plans to resign his seat after coming under growing pressure from his Democratic colleagues to leave the House in the wake of revelations of his lewd online exchanges with women, said a person told of Mr. Weiner's plans.
Read the whole thing, but I am with Emily Miller on this: "I need a press conference of his smug face before I believe it."
Update: I just got a Cnn breaking news email that confirms it. It's worth noting that it was believed the final decision would be made when his wife came home, and she came home early from Africa yesterday.
Update: From the tweeter to the blog: Our long national Weiner joke appears to be over.
Update: More from the Times:
Mr. Weiner, a Democrat, came to the conclusion that he could no longer serve after having long discussions with his wife, Huma Abedin, when she returned home on Tuesday after traveling abroad with her boss, Secretary of State Hillary Rodham Clinton.
And let's give a shout out to everyone who made this possible. Andrew Breitbart, who forced him to admit it wasn't a hack and of course Patrick who uncovered sufficient evidence to justify a police investigation into his interaction with a teenager. And even though we don't know him, etc., I guess we have to thank Dan Wolfe, too. And how can I forget Mike, a.k.a. Goatsred? Update: Shouldn't have forgotten Ace, either.
Update: Iowahawk tweets: Reports: Weiner to Quit #TypingThroughTheTears
Update: Maybee correctly reports that Gennette Cordova's twitter has gone dark. Maybee alleges it was last night when this happened. If true, would that mean that Gennette knew it was coming? On the other hand, she said several times she planned to deep-six the twitter anyway. So who knows? And even that is not necessarily nefarious. He might have simply emailed her about his decision at his wife's request so he doesn't mess up her life any more, and she kept her mouth shut about him.
————————
Weiner Links
There is no over-arching point to this post, just a tangentially linked set of Weiner stories I have seen over the week that I found interesting in one way or another but couldn't find a chance to blog about them.
Let's start with what I think is the most outrageous part of the story right now.  While Weiner is absent from Congress because he has a bad case of gotta-stick-it-in-everything, he is receiving paid leave.  That is right as he goes through this bull___ treatment program, we are going to pay him for the trouble.  The fact that this only could have happened with unanimous consent shows how unreal Congress is on the topic of spending.  Emily Miller, who you might remember taped Weiner being a crude idiot, has the details.
Of course I do think that Weiner is a screwed up person.  This is not an excuse, mind you, but it is a reason.  And I think Dennis Miller makes a good case for why he did it, here. And the solution isn't therapy, but to say to him, "Grow up, you Weiner."
And next we have Prudence Paine's latest post.  You might remember she was the one who first saw that tweet by Ginger Lee indicating that she had received a direct message from him.  For purely informational purposes, this is what she looks like (Ginger Lee, not Prudence Paine):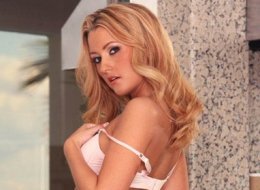 Anyway, Prudence spends a whole post examining the psychology of Ethel (not her real name), the seventeen year old girl whose contact with Weiner is the subject of an investigation that apparently is still in progress.  And this is frankly where I have to respectfully disagree with Patrick on one subordinate point.  He has said argued different times that when it comes to our suspicions "it's his state of mind that matters, not hers."  But I have to disagree.  Evidence as to his state of mind tells us what his intent or expectations might have been when contacting this young woman, but evidence of her state of mind tells us how she was likely to react to him.  The two inevitably interact as they interact.  And the picture Prudence paints of Ethel's crushes and heartbreaks, is disquieting in that regard.  I recommend reading the whole thing.
Of course returning to the subject of Ginger Lee, as you know she held a press conference today.  So here's video from most of it:
And here she is calling for the Weiner to withdraw:And you can find additional coverage of this press conference here, and here.
And hey, while certainly  no one will accuse Ginger Lee of exploiting the situation, Gloria Allred made sure to mention that she was going back to work.  And what exact work was it?
That is via Prudence Paine with me editing out the name of the club (sorry, guys you will have to find out another way). It raises the question: can a Playboy spread with a "serious" story about her experiences, a la Jessica Hahn, be far away?
On the resignation watch, the latest news is that the Democratic caucus got very heated over Weiner yesterday and plan to meet again today. And while the White House tried to avoid saying anything about resignation at first, eventually Obama said that if he was in his shoes, he would resign.  Of course, I think honestly Obama actually probably has a solid enough marriage that he would never find himself in that position, but there you go.
And another fun thing about this scandal is the constant beclownment of his defenders.  For instance, here we have Lee Siegel arguing that since the great Dr. Martin Luther King, Jr. cheated, we should tolerate it in a two-bit Congresman.  As one person quipped "Anthony Weiner should not be judged by the color of his foreskin, but by the content of his 140 characters."
But for beclownment, it's hard to beat this exchange between Howard Kurtz and Dana Milbank:
(Not that Kurtz has owned up his comment that the scandal looked like a hack, but oh well…) At the same time Chris Matthews takes a few swipes at Elliot Spitzer for covering the issue.
And I think Matthews is right.  I mean besides the creepy line, "I have been there"…
…there is this discussion of how he should have handled the scandal, when Spitzer says that his greatest sin from the perspective of the public was not being truthful at the moment of crisis.
No, Governor Whoremonger, I think his greatest sin was promising to be faithful to his wife…
…and then cheating within two months of the wedding.  It's the way he has hurt the woman he should care for the most as well as their future children.  In my mind, lying is just the icing on the cake.
Meanwhile the New York Post imagines that the pics taken in the Congressional gym might be an ethics breach, writing:
They may not be the most revealing photos — but they could be the most damning.
Sex-crazed Rep. Anthony Weiner's newest slew of beefcake shots, taken in the House gym and sent to at least one woman, give ethics investigators bombshell evidence of official misconduct, insiders told The Post.
"That's what the House ethics committee will look at," former House historian Ray Smock said about the 11 steamy self-portraits that made the rounds on the Web yesterday.
"Earlier, he said he was using his private cellphone camera. In this case, he may have been using his private camera, but he was doing it in a very, very public place — the House gym," Smock said about the taxpayer-funded facility.
That means Weiner may be in violation of the House Code of Official Conduct's so-called "golden rule," requiring that members "behave at all times in a manner that shall reflect creditably on the House," he said.
But to my eyes the rule is more of a generalized morality clause (which, um, doesn't seem to be very rigorously applied), than a desire to make sure the building of the House is respected.  I have no doubt that the closer it gets to his official offices or the floor of the house itself, the more the anger will grow, particularly from his colleagues, but morally I am not sure what the difference is.  The issue is his compete lack of respect for his wedding vows, his dishonesty to us, the possibility that he lied even when pretending to come clean, and our concern about, well…  this: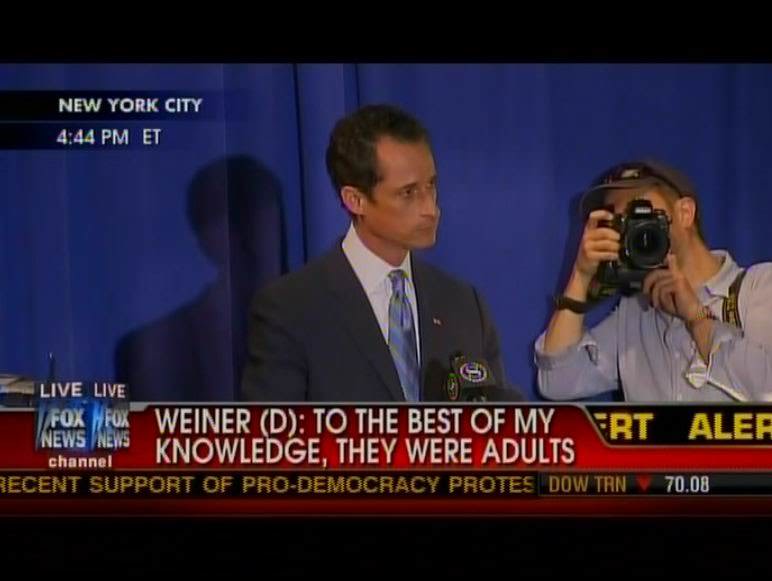 Dang, that is a devastating screencap.
Oh, and as if all that wasn't enough, apparently he is engaged in license plate fraud, too.  Yes, really.  Remember taxes and fees are for little people.
And apropos of nothing, there is a fascinating backgrounder on why twitter works the way it does, and how the way it worked helped snag him.  The title suggest that the moral failings were twitter's fault, but in reality it's much more about how the evidence was gathered.
[Posted and authored by Aaron Worthing.]