[Guest post by Aaron Worthing; if you have tips, please send them here.]
I think my favorite metaphor for the logical disconnect in the blame-the-right rhetoric over the Giffords/Roll shootings, is the Underpants Gnome theory.  As you might recall, the Underpants Gnomes were featured in an episode of South Park where they learned that these creatures stole people's underwear.  The Gnomes were doing it, they explained, because it was part of their business plan, which looked like this: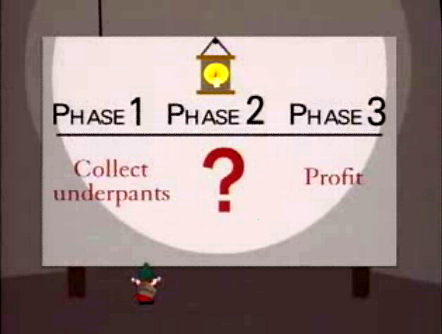 And here is a video explaining the joke:
(Of course mildly NSFW because of mild bad language and one of the characters dies.  Spoiler alert: it's Kenny.)
The joke was they had no idea what step two was, so they would just gloss it over.
So Pejman Yousefzadeh explains how this logic is being applied to the Gifford/Roll shootings:
As presented by port side demagogues . . .

Phase 1: Sarah Palin publishes a map.

Phase 2: ?

Phase 3: Gunfire.

Really, at the end of the day, they have nothing more than this to make their case that Palin is responsible for the shootings.
And well, what could be a better illustration of this principle than the latest piece of crap editorial from the New York Times:
Jared Loughner, the man accused of shooting Ms. Giffords, killing a federal judge and five other people, and wounding 13 others, appears to be mentally ill. His paranoid Internet ravings about government mind control place him well beyond usual ideological categories.

But he is very much a part of a widespread squall of fear, anger and intolerance that has produced violent threats against scores of politicians and infected the political mainstream with violent imagery.
Of course if we were to characterize him, given that he is a Truther and admirer of Marx, I don't think we can call it right wing, now can we.  And as far as fear, anger and intolerance, well, what could be a better example of all three than jumping to the conclusion that those you disagree with are inciting murder?  The New York Times is positively contributing to the "squall" they purport to denounce.
Oh, and you knew this was coming, didn't you?
With easy and legal access to semiautomatic weapons like the one used in the parking lot, those already teetering on the edge of sanity can turn a threat into a nightmare.
Now of course Arizona isn't generally a gun free zone, but it is worth noting that the killer was eventually tackled by four very brave Arizonans.  And good for them, but I wish they had something other than their bare hands as weapons. They might have stopped it sooner and saved a few lives, too.
Hey, but don't let the facts get in the way of your narrative, eh, NY Times?
[Posted and authored by Aaron Worthing.]