Barack Obama has expressed "deep concern" over the situation in Ukraine:
U.S. President Barack Obama spoke with Russian President Vladimir Putin for 90 minutes on Saturday and expressed "deep concern over Russia's clear violation of Ukrainian sovereignty and territorial integrity, which is a breach of international law," the White House said.
Putin must have been deeply concerned by Obama's use of this phrase, since Obama doesn't express "deep concern" lightly. It's not like it's a pet phrase he trots out every time something happens overseas.
Or . . . maybe it is.
Of course, it's not just international issues where Obama is deeply concerned. He shows deep concern about domestic issues as well.
There are more. I just got tired of documenting them all.
Because Obama so often expresses deep concern, it stands to reason that he is, of course, deeply concerned. Confirming this deduction, the blog I Hate the Media in April 2011 collected over a dozen examples of Obama being deeply concerned.
So when Obama tells Putin of his deep concern, well . . .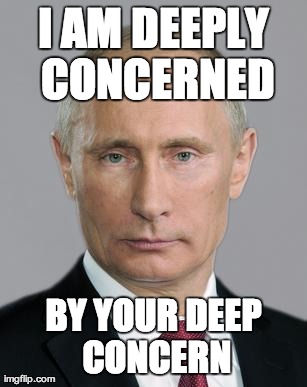 Thanks to an excellent tipster.