[Guest post by Lee Stranahan]
BREAKING NEWS
While a Fox News reporter was sitting at the kitchen table with "Ethel," the girl mentioned in our previous reports on Rep. Weiner talking to underage girls, the police entered and immediately ended the interview. Police also ask reporter to hand over screen grabs and other potential evidence.
For more details read the report on Fox News.
< p>

 

UPDATE BY AARON WORTHING: I wanted to add some text from the news story discussing the police visit. Expect many updates by Patrick, and Lee, and possibly myself as the evening goes on:
NEW CASTLE, Del. — Police on Friday afternoon came to the home of a 17-year-old high school junior to ask her about direct online communications she has had with Rep. Anthony Weiner.
Two officers from the New Castle County Police Department arrived at the girl's home around 4:30 p.m. and asked to speak with the girl's mother about the daughter's contact with Weiner. Another officer appeared at the home a short time later. A FoxNews.com reporter was at the home when the police arrived.
The girl, whose name is being withheld because she is a minor, told FoxNews.com, "I'm doing OK."
Read the whole thing. This is almost certainly the girl Patrick identifies as "Ethel." I know what her true name is, and I know that she lives in Delaware.
This doesn't mean Weiner is guilty of any inappropriate behavior toward this minor, but if the police are thorough, it does mean we will know if he is guilty of such conduct.
Also let's consider a quote from Weiner's own Congressional webpage that might become more ironic as this goes forward:
Sadly, the Internet is the predator's venue of choice today. We need to update our strategies and our laws to stop these offenders who are a mere click away from our children.
And let's not forget that screencap: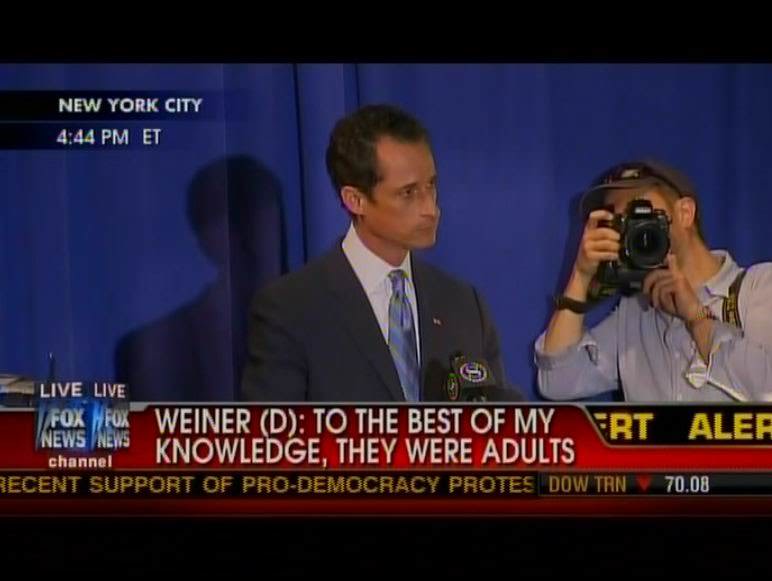 END OF UPDATE BY AARON WORTHING.
UPDATE BY AARON AND LEE: Weiner's office issues an oddly worded statement:
Weiner's spokes[person], Risa Heller, emails: "According to Congressman Weiner, his communications with this person were neither explicit nor indecent."
As Allahpundit points out, spokespeople don't phrase it that way, "according to my boss." They usually declare it as if it is a fact, suggesting even his spokesperson has doubts.