Here at patterico.com we have been covering the Weiner scandal from Day 1. In covering that story, we soon realized that one of the most disturbing aspects of the story was the possibility that Congressman Weiner had engaged in communications with underaged girls. For whatever reason, this is the part of the story that the media has ignored.
Although Andrew Breitbart had some evidence of Congressman Weiner's interactions with underaged girls, the involvement of young girls in this story was first revealed by the web site Mediaite, which published a piece about two underaged girls who idolized Congressman Weiner — one of whom claimed to have incriminating private Twitter messages from the Congressman.
Yet when Mediate's liberal reporter Tommy Christopher confronted the girls, that girl instantly took back her accusations against the Congressman. I lied! she said — and both girls pointed the finger of blame at a supposedly nefarious team of Republicans . . . a new spin on the story that must have seemed like a godsend to Weiner's PR team.
My B.S. detector went into overdrive. The statements issued by the girls and their parents sounded like classic political spin — Weiner was praised as a hero who had done nothing wrong, while the girls were portrayed as helpless victims of nasty Republican operatives.
I published a post that revealed contradictions in Christopher's story. That post of mine also revealed the specifics of what the girls said they had. For example, one of the underage girls had told a man named Mike Stack:
the DMs with that girl gennette are between gennette and [an underaged girl] with gennette telling her how she & weiner flirt

how they flirt on DM
The story changed completely when Weiner confessed on Monday. It became clear that not only had Congressman Weiner sent pictures of himself to women, he had also allegedly coached a young woman to lie. And a transcript appeared of sexually explicit conversations between Weiner and Las Vegas blackjack dealer Lisa Weiss.
But Rep. Weiner insisted that he believed all the girls were of legal age.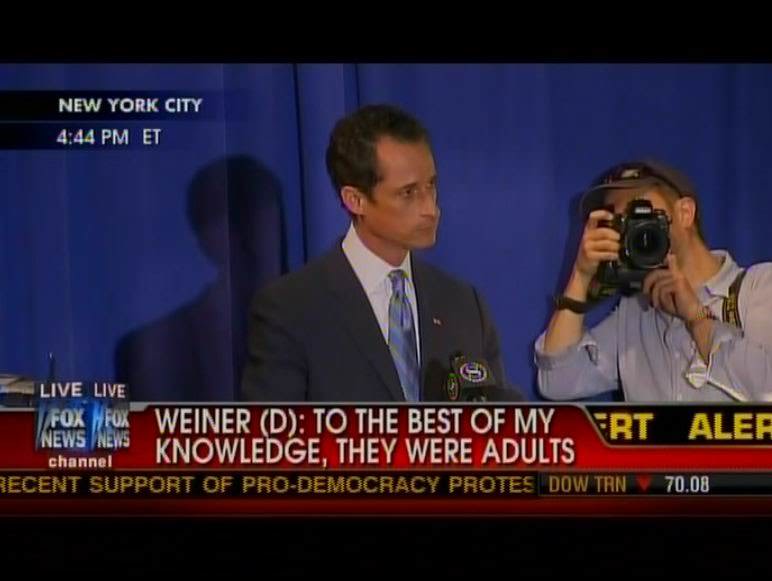 Now, there is new evidence to suggest that Congressman Weiner had intimate conversations with an underaged girl. For privacy reasons, I called this girl "Ethel" in a previous post. She is someone who argued with another underaged girl about having a crush on Weiner — shortly after posting messages such as "SERIOUSLY LOVING LIFE AGAIN BUT I GOTTA KEEP MY MOUTH SHUT OR ELSE…" followed by "I'm in love with married men, #thatswhyimsingle."
There is plenty of evidence (as we will detail in future installments) that Congressman Weiner was Ethel's favorite Congressman. In this post, this blog will not link the Web address that shows Ethel, together with her Tumblr posts showing her talking about Congressman Weiner. But here is a screenshot from the cache of that now deleted Tumblr account:
If you were to enter the YouTube address at the bottom of that screenshot into your browser, you would see this girl's favorite Congressman — Anthony Weiner — passionately making an argument about a 9/11 bill:
But what about the top of the screenshot? There, we see the following:
"I came back strong. Large. In charge. Tights and cape shit…" My favorite congressman<3
(My emphasis.)
Look at the quotation marks. The underage girl appears to be quoting her "favorite Congressman" Anthony Weiner. "Tights and cape shit" is not a phrase you would expect to hear uttered publicly by Congressman Anthony Weiner.
But it does sound like something that he might have said privately. That the underaged girl quoted.
The link for this statement — which will hopefully not need to be published — is from a Google cache that predates the scandal. The Google cache snapshot was taken May 29 . . . and as you can see from the screenshots above, the relevant parts came three days to a week earlier. Meaning that these statements appeared on May 26 and earlier — before the scandal broke on May 27. This evidence was not manufactured after the fact.
But is there evidence that Congressman Weiner ever talked dirty to someone about fighting for the country in his cape and tights?
As it turns out, there is.
Namely, that sexually explicit conversation he had with Lisa Weiss:
[WEINER:] computer back up?

[WEINER:] no sense in you being clever if nobody can read it. good morning.

[WEISS:] hi honey! computer's back up…what's up with you? busy saving my country rom this f***in tea baggers?

[WEINER:] Yep. Cape. Tights. Looking for my sidekick.
It gets very explicit after that.
So we know that Congressman Weiner talked dirty to Lisa Weiss about fighting for the country in his cape and tights.
And we know that an underaged girl, who loved Congressman Weiner, apparently quoted him talking about fighting for the country in his cape and tights.
In an ideal world, I would prefer not to publish Part 3 of this series.