[Guest post by Aaron Worthing; if you have tips, please send them here.  Or by Twitter @AaronWorthing.]
Update: Okay, this is weird. Apparently Weiner has apologized to… Bill Clinton? You know because he officiated at their wedding and all…
Rep. Anthony Weiner explained himself and apologized for his conduct to Bill Clinton, who officiated his wedding to wife Huma Abedin, sources familiar with the call said.
Yeah, you know because when Bill Clinton is involved in a marriage, he expects the parties to be faithful…
The original post follows.
—————————-
First, I find myself mostly agreeing with Ed calling for Weiner to resign:
And then he tells his guests they are delusional:
Yes, that would make him the most rational and intellectually person at MSBNC.  Weird.
Also, I noted a a few other highlights in the second clip.  First, did Ed suggest that they still weren't sure if there was a hack or not?  You know, his statement was so off-the-cuff and contradictory with the rest of it, I will assume that was a misstatement.
Second, Bill Press says that Weiner's conduct was unacceptable but shouldn't resign.  Funny, in't just letting him go without even asking him to resign, accepting it?  Seriously, when was the last time a liberal politico said something was "unacceptable" and then advocated doing something about it?
Third, and isn't it funny to see these liberals struggle to understand why it mattered?  This man has been married less than a year.  Did he even take a hiatus from his sexting for his honeymoon?  A man who cheats like this in the very first year of his marriage, never meant it when he swore to forsake all others, and to be faithful to her.  Ah, but then again, maybe the officiant at their ceremony omitted those words.
And of course Huma Abdeen* is a long-time aide to Hillary Clinton, so she is probably getting top notch advice on how to just let her man repeatedly humiliate her in public and still stand by her Weiner.  Perhaps like Hillary, Huma will be convinced to stay on with the siren call of political power.  But I have to wonder if there is any reality to their marriage at all.
Finally a few notes on remaining questions.  First, he has said that was not certain about the age of his digital paramours.  Let's see that screencap again: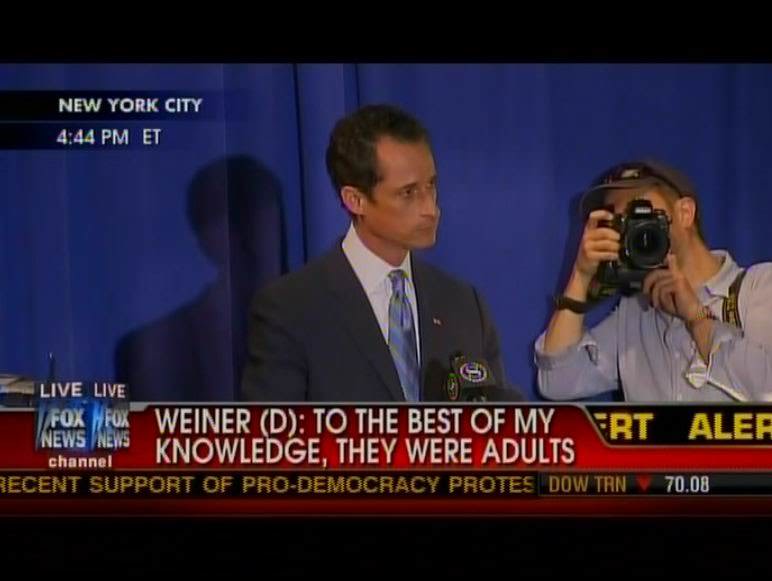 I think we should try to find out who those girls were if only to do an age check.  I am not saying the entire world should know who they are, but the press should.  And as Patrick has noted there is increasing evidence that at least one teenage girl might have had some direct messaging from him.
Also he said, "I've never had sex outside my marriage."  Which, um, is a weird thing to say, because he was only married last year.  So was he saying that he was still a virgin at forty-five?
Which, joking aside, strikes me as implausible.  I think the more sensible interpretation is that he was trying to say that since he got married, he has never had actual sex with anyone but his wife.
Well, okay, then, and what about before he got married?  Did he meet up with any internet girls before he married?  Of course so far all of the identified paramours apparently started after he got married (two confirmed and if you agree with me about Cordova, she's the third).
—————————
* For one second, I considered whether it was significant that she was still mainly known by her maiden name.  Then I reflected on it, and decided I shouldn't read too much into not wanting to be named Huma Weiner.
[Posted and authored by Aaron Worthing.]