[Guest post by Aaron Worthing; if you have tips, please send them here.  Or by Twitter @AaronWorthing.]
So today we learned of a small victory in the ongoing war over freedom of speech.  Sion Owens of the British National Party apparently burned a Koran on video.  He was arrested over the weekend or violating Section 29 of the Public Order Act, most likely on the claim that he incited religious hatred as that is apparently part of what the act defines as a crime.
Let's stipulate from the outset that the man himself is probably a tool.  The word "national" in the British National Party probably refers to an ethnic or racial identity and thus the man is almost certainly a bigot.  But that is beside the point.  He has a God-given right to be a bigot, to say his bigoted things, and his freedom to engage in expressive conduct can only be limited in viewpoint-neutral ways.  And bluntly, when they arrest him for this kind of thing, all they succeed in doing is giving him a megaphone as we in the west decry the jackboots of the state coming down on his neck.
The positive development in this case, however, is that the man has been let go.  And that is good.  But there is a concern that this was only because of the slightest technicality, and he might be rearrested any day now:
He was warned today that police are continuing to investigate the alleged incident and to expect further action.
It is understood that his release was due to a technicality regarding the Act under which he was arrested and charged.
An unconfirmed source in court today claimed that the permission of the Attorney General must be sought before such a charge can be made.
In the case of Mr. Owens, it was not.
So this might end up looking like the Geert Wilders case where he  was prosecuted against the will of the prosecutors, had his case ended prematurely due to serious misconduct by one of the judges, only to learn that the prosecutors who didn't want to prosecute him in the first place and said that he shouldn't be convicted, were being ordered to prosecute him again.  (Note: the fact that this was occurring in an inquisitorial judicial system is highly relevant to these shenanigans.)
Meanwhile over in America, specifically in St. Paul, you learn the story of a first generation immigrant from Vietnam, who was imprisoned in his home country for his Catholic beliefs, woke one morning to find that someone set a fire at base of his statue of Jesus.
Naturally this led to Christians rioting everywhere, killing the women and raping the horses* and so on, right?  Oh, wait, nothing like that happened.
But of course we know that certain other cultures are a tad more savage and barbarian.  Today we learn that the Palestinians feel that they are ready to be their own state:
The Palestinians are ready for statehood now, according to a report to be presented to major aid donor countries in Brussels this week by Palestinian Authority Prime Minister Salam Fayyad.
The report, "Building Palestine. Achievements and Challenges" will be presented on April 13 to the Ad Hoc Liaison Committee (AHLC), a 12-member committee of the European Union and United States which serves as the principal policy-level coordination mechanism for development assistance to the Palestinians.
He will present facts and figures to show how his Palestinian Authority has used hundreds of millions of dollars in foreign assistance over the past two years to create health, education, energy, water, security, justice and housing services.
"I believe that our governing institutions have now reached a high state of readiness to assume all the responsibilities that will come with full sovereignty on the entire Palestinian occupied territory," Fayyad says in the 63-page document.
Mmm, yeah, there is more to being ready for statehood than running water and electricity.  Let's present a fact to the contrary:
Israeli aircraft and tanks pounded Gaza on Friday, killing seven Hamas militants and five civilians in a surge of fighting sparked by a Palestinian rocket attack on an Israeli school bus the day before.
Israel and Gaza's Hamas rulers seemed on the brink of another round of intense violence, just a little over two years after a three-week war in which persistent rocket fire from Gaza triggered a devastating Israeli military offensive in the territory.
Israeli Prime Minister Benjamin Netanyahu said the attack on the school bus "crossed a line" and warned that "whoever tries to harm and murder children will pay with their life."
In Thursday's attack, Gaza militants hit a yellow Israeli school bus near the border with a guided anti-tank missile, injuring the driver and badly wounding a 16-year-old boy. Most of the schoolchildren on the bus had gotten off shortly before the attack. Hamas, which had largely held its fire since Israel's last major offensive, claimed responsibility.
You catch that bit about the missile?  It was guided, which means that someone had to intentionally target that school bus.  It is really a matter of luck (or perhaps God's blessing) that this didn't result in a pile of dead Jewish children.
"Ah, but you are being horribly unfair, Aaron," you might say, "you can't hold the entire Palestinian people responsible the actions of a few.  It's not like they have widespread support or anything like that."
But of course that depends on what you mean by "widespread."  It turns out that 32% of Palestinians support the attack murder of the Fogel family last month.  I will remind you that this attack resulted in the murder of almost everyone in that family, including three-month old Hadas.  This is how she looked in life:
And this is her lifeless body being removed:
It is no exaggeration to say, as Roger Simon did, that this meant 32% of Palestinians supported infanticide.
By comparison here is Haim Levin, an Israeli paramedic who saved a young Palestinian baby's life and was honored by having her named Jude:
The contrast is sharp and to the disadvantage of the Palestinians.  One culture saves the lives of children.  The other teaches its children to become martyrs:
And yeah, 32% of the Palestinian population is not a majority.  But do you think you could get 32% of Americans to support the intentional murder of any three month baby?
Joking aside, there is no more greater hate than that which drives you to murder a baby.  As I said a way back:
There is no reason to intentionally murder a baby, unless you believe that there is something about that child that makes him inherently evil.  They don't kill Jews because of anything they have done to them.  They kill them out of irrational hate—simply because they are Jews.
So, yeah, excuse me if I think they are too much a bunch of barbarians in Palestine to be entrusted with a state.  Get your infanticide support down to the single digits and maybe then we will talk.  Of course I am sure Glenn Greenwald will call me a bigot or something because of this.  Because apparently all countries and cultures are created precisely equal.
Now, I do believe that all persons are created equal.  But once they are ejected from the womb, inequalities are taken on pretty quickly.  This idea that no country, religion or culture could go bad flies against the most obvious lessons of history: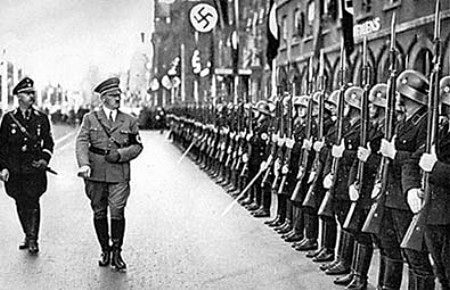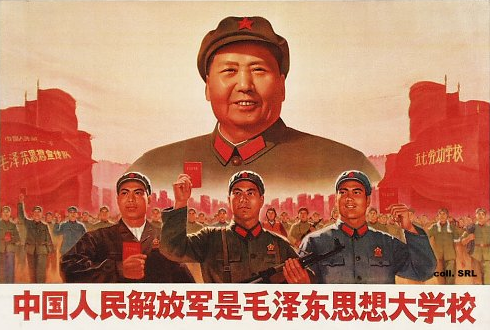 No one would say that it is racist to call the Germany in the 1930s and 40s, China under Mao, or Rwanda during its genocide a barbaric country.  It's simply stating a fact.  Greenwald may want to stick his head in the sand and impose a false equality on countries and cultures, but I am not obligated to do so.  And we in the west are allowed to encourage assimilation away from those barbaric values as people come to our countries.  But of course that clashes in difficult ways with concepts such as freedom of expression.
So, for instance, in France they have instituted a "burqa ban" that went into effect today:
There are also misleading reports suggesting that women in veils were being arrested for wearing veils, but in fact they were arrested for illegal assembly.  Yes, those reports mention that the arrest is not for wearing a veil, but you wouldn't know it to read the headline.
To shift gears a little bit, let me tell you about a story I meant to blog about last Halloween, but it got lost in the shuffle.  On that Halloween night, a man was arrested for wearing a mask:
The News & Observer of Raleigh reports that 20-year-old Lawrence Marqueal Rogers was arrested Sunday for wearing a mask or hood in public. He's being held in the Wake County jail on a $7,500 bond.
Police said Rogers has been convicted in the past of larceny and other charges.
Police said he was cited for wearing a red bandanna covering his face except the eyes on Halloween night. After he donned the garment a second time, he was arrested.
Now admittedly the Maryland version of this story is funnier, but I wanted to highlight the North Carolina version of that story because that word "hood" should give you a giant clue about the law they were using in that case.  It's a series of laws generically referred to as the Klan Acts.  You can see the outline of these laws here under Article 4A.  The specific statute he appears to be charged with is NC G.S. § 14-12.7 which says that
No person or persons at least 16 years of age shall, while wearing any mask, hood or device whereby the person, face or voice is disguised so as to conceal the identity of the wearer, enter, be or appear upon any lane, walkway, alley, street, road, highway or other public way in this State.
Now there is an exception for people "wearing traditional holiday costumes in season" (§ 14-12.11) which seems to be designed for trick-or-treaters.  It will be interesting to see if Mr. Rogers can assert that he was actually wearing a Halloween costume.  But while § 14-12.11 has numerous exceptions one in particular is missing: religious exceptions.
So…  are there just no face-covering Muslim women in North Carolina?  I strongly doubt that.  And yet while this law and laws in many other states like it can only be read as a burqa ban, I have never heard of any face-covering Muslim woman ever being arrested under these kinds of statutes.  A google search only reveals this story in Jet Magazine over ten years old based on an alleged misinterpretation of the law.
Should this law be enforced strictly as to even apply to Muslim women who are not part of any terrorist organization like the KKK and intend to do nothing worse than go about their daily lives?  Well, it depends on what we want these laws to accomplish.  It might be the case that such Klan Acts are really used only sparingly, in an application of what I call "The Al Capone Theory of Law Enforcement."  The theory goes like this.  Al Capone was a big gangster.  Everyone knew he was a big gangster.  But we didn't bust him for being a gangster.  We busted him for tax evasion.  So the idea is you take people you know to be bad already and bust them on piddly crap in order to get them off the streets.  Now this is at best a very dubious theory of law enforcement, but it's been done and maybe that is what is happening here.  Maybe the cops never arrest anyone for wearing a mask in public unless they are pretty sure they are otherwise up to no good.  And if that is the approach, then it seems reasonable to say that otherwise law-abiding Muslim women should be exempted—or at least it's no worse to exempt them than anyone else.
But there is another view, which is that there is a danger in having large numbers of people in our society being essentially anonymous and unidentifiable.  If a group of Klansmen ride up to your house, what chance do you have of identifying them?  Even if they are fool enough to use cars with uncovered license plates, you can't prove who was in the car and who was driving, and so on.  And if a woman in a burqa shoplifts from a store, what chance does anyone have of catching her?  So one might argue that a person's face should be uncovered for the same reason why we require every car to have a license plate: so you can't just commit a crime and have no chance of being identified.  And under that theory, every person wearing a face covering must be arrested, even if it's a little old lady who only wears that sort of thing because she believes her God wants her to.
This bears some legal resemblance to a Florida case a few years back Freeman v. Department of Highway Safety and Motor Vehicles, where a Muslim woman demanded that she be allowed to use a veiled picture for her driver's license.  One only has to imagine the silliness of a photo ID that only shows the eyes to see this kind of defeated the whole purpose of the picture.
Now in that case, the state allowed the woman to have the picture taken in a closed room, with only a female photographer present, and she would not be required to show the license to anyone but a cop.  In short, the revealing of her face was very slight, but the plaintiff said even that was too much.   Here, I am contemplating whether just by virtue of being in public, people should be forced to show their faces.
And of course one other thing has to be considered from a policy, rather than legal, angle.  If we enforce laws that require Muslim women to remove their veils in public, they might just stop going out in public.  If we enforce laws that require them to show their faces to get a driver's license, they might just stop driving.  If we want these Muslim women to achieve equality, the first step might be a reasonable accommodation with these traditions—as backwards as they are.
But on the other hand, it is reported that in many European cities that veils are so common that when westernized women come in they are harassed to the point that many women will wear veils that ordinarily wouldn't.  Indeed, I had a friend who visited Morocco and told me of men who just assumed every western woman was a slut or prostitute.  She told me that the land was beautiful, but hearing men shout "pussy!" as she walked down the streets almost negated that.  In that sense a regime of requiring women to remove their face coverings might stop that sort of thing from happening here.  It might be a case of the freedom of those Muslim women being pitted against the freedom of the liberated women.
Myself, I tend to think that we should not allow people to appear in public with their faces covered, period (with only a few exceptions for stage performances, Halloween and the like).
Of course you might reasonably ask if I would support it as a form of expression and under the principles religious freedom.  Certainly a person has an absolute right to believe that a woman should wear a veil and to advocate for laws allowing for it to occur.  And certainly there is an expressive element to wearing a veil, as there is an expressive element to burning a Koran.  But it simply can't be the case that every time someone's conduct is expressive, or based in faith, that we let people do it in contravention of neutrally written laws.  I mean by that logic it would be illegal to stop the 9-11 hijackers, because they were just acting according to the dictates of their faith!
I would question how a religious exemption would work in practicality. The KKK could then claim that they were motivated by faith in wearing a hood, and indeed they might be. As Clarence Thomas noted in a concurrence, there are many elements of faith in Klan traditions. Its idiotic religious hokem, to be sure, but the law can't distinguish between "dumb" faiths and "smart" ones.
And indeed, the first time I heard of Terry Jones and his plan to burn Korans was when his city denied him a permit to do so.  And I felt that this was kosher as long as the ordinance was enforced without regard to what was being burned.  Of course given that this was allegedly occurring in Gainesville, Florida, home of the University of Flordia Gators and the Gator Growl, it seems very likely that they do allow bonfires for expressive purposes—just not Jones' expressive purpose and that was the problem for me.  When expressive conduct is involved I don't mind regulation of conduct, as long as it is neutral among the viewpoints expressed in that conduct.
So a burqa ban because people should never be anonymous in public or perhaps to protect the freedom of all women to go burqa-free?  I can support that.  But a ban because its "unFrench" to behave that way seems much more questionable.  Yes, yes, I support assimilation, but mostly by persuasion rather than force.
————————–
* With apologies to everyone involved in Blazing Saddles.
[Posted and authored by Aaron Worthing.]