[Guest post by Lee Stranahan]
One of the key figures in the Pigford scandal is "Dr." John Boyd, head of the National Black Farmers Association., who has personally profited to the tune of over $1,000,000 from the USDA. 
And her's about to cost you, dear taxpayer, billions more…but more on that in a minute.
In 2009, attorney Rose Sanders – who represented Shirley Sherrod –  said this about "Dr." John Boyd,…
Less than two years ago, I attended meetings by John Boyd where he and his attorneys were soliciting contracts from hundreds of eligible and ineligible claimants before the Pigford II legislation was passed in Congress. These contracts obligated citizens to pay 1/3 of their recovery to John Boyd's attorneys plus expenses. Expenses had to be paid even if the claimant was unsuccessful. I objected to these outrageous contracts. Boyd's claim that his April 28th protest is inspired by his concern for Black Farmers must be questioned.
That's a serious charge Ms. Sanders is making and shows a clear example of black people being taken advantage of by Boyd and the lawyers he was working with.
I spoke to Ms. Sanders last week to see if she still stood by this and she said of Boyd and the lawyers, "Well, it's not illegal."
Why was Ms. Sanders so clear about Boyd's wrongdoing two years ago yet she makes excuses for him today? I think the answer is really tragic – she's part of a move to circle the wagons now that people like Andrew Breitbart and I are looking into Pigford. This suspicion does nothing to help the real farmers and does everything to help protect men like John Boyd.
Another guy they are defending? Al Pirse, the (white) attorney who has made over $10,000,000 off of Pigford by his own estimates. Watch more about Pires in this report from John Stossel. Pires shows up at about 4:00 in.
But – who cares?
Pigford is over, right? Too late, right? Wrong. Wrong wrong wrong.
This coming Friday, April 15th in Washington there's a hearing on the Women Farmers settlement. And who will be there? John Boyd and Al Pires. Take a look. That's Al Pires and John Boyd in the picture.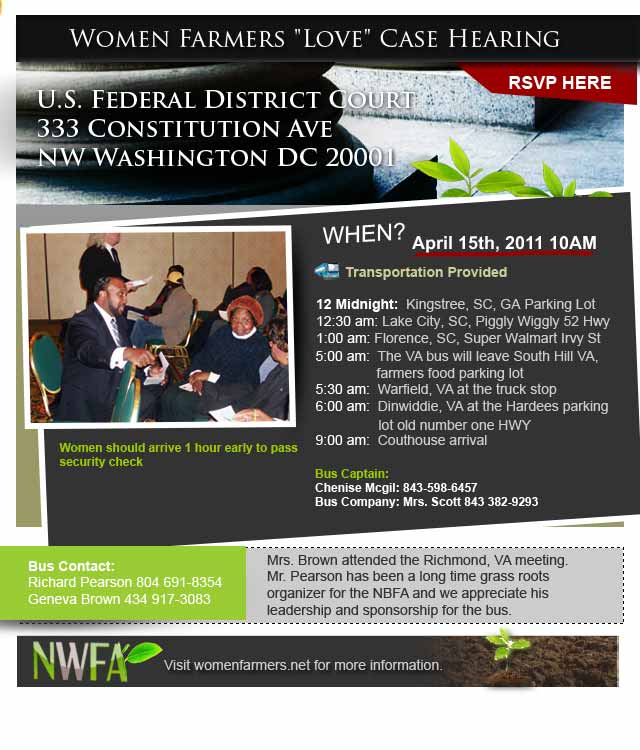 Am I the only one who wants to stop these two?
– Lee Stranahan