[Guest post by Aaron Worthing; send your tips here.]
Update: American Power has this overhead shot helping us to compare the size of the Beck and Stewart rallies.  I still don't care, but if you do: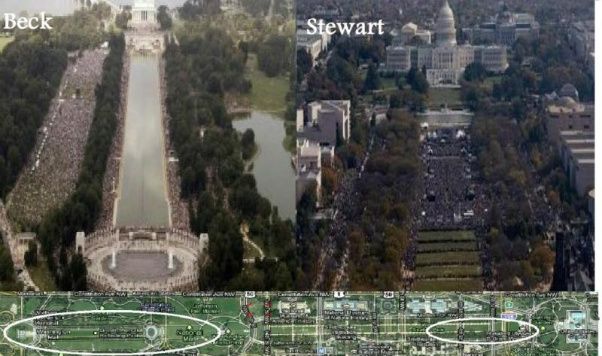 Yep, Beck's was bigger, but Stewart has nothing to be embarrassed about.
First, if you are inclined to watch the Jon Stewart/Stephen Colbert Rally, The Blaze has live coverage, here.  And as of this writing, all it is, is music which I admit I am digging on.  I personally am on record saying that I don't care about crowd size in protests.  But if you are morbidly curious, I haven't seen any photographs of it, but the AP has written "people assembled by the tens of thousands Saturday" although that reportage seems a little premature.  On the other hand, on the Facebook page it is right now listing about 10K definitely attending, about 100K "maybe" attending, exactly 10K awaiting reply (weird), and over 240K saying they will definitely not attend, for what it's worth.
As a sidebar, Ann Althouse caught Patterico's favorite newspaper engaged in deception on this point:
L.A. Times on the Jon Stewart rally: "Nearly 225,000 people had RSVP'd on the event's Facebook page as of Thursday morning."
Why do journalists keep writing the RSVP number like that? Look at the Facebook page. The number who say they are attending is (currently) 10,019.
239,164 RSVP'd to say they are not attending. 112,812 say — are they just being polite? — they are "Maybe Attending.
Why do they keep writing it like that, Ann?  Well, I have a theory…
Anyway, watching it, and seeing that Comedy Central is running it live—indeed, according to my TIVO, there will be no commercial interruptions, and there haven't been so far—I realized that none of this would have been possible without the Supreme Court's ruling in Citizen's United.  This is corporate speech.  Comedy Central is a corporation, a subsidiary (most likely through multiple shells) of Viacom, another company, donating it's on air time to this political rally.
But according to Jon Stewart and Stephen Colbert, the government should have the power to ban this kind of thing.  Mind you, of course, that is only my reading of Colbert's satiric remarks; I believe what he is trying to do is say the Supreme Court is wrong to say a corporation deserves any first amendment protection at all, but since his satire is so thick rational minds can disagree.  Stewart's mockery, meanwhile, is a little more straightforward and it's easier to discern his point.
I have noted before the irony of corporate entities and those who speak for them, speaking out against Citizens United, writing:
On January 23, the New York Times denounced the Supreme Court's ruling in Citizens United v. F.E.C., stating that "the court[] … has paved the way for corporations to use their vast treasuries to overwhelm elections and intimidate elected officials." In a twist worthy of Monty Python and the Life of Brian, this editorial was unsigned, representing the voice of the New York Times Co., itself a corporation. It amounted to "this corporation says that no corporation has a right to free expression."
Next I suppose the entire staff will gather together and chant, in unison, "we are all individuals."
As for Stewart's rally, hey, more power to him.  We all want to restore sanity. Fiscal sanity, regulatory sanity and so on.  That is why I am voting Republican next Tuesday.
Update: Did some pinhead really say that outside media was banned from the rally?
[Posted and authored by Aaron Worthing.]