[Guest post by DRJ]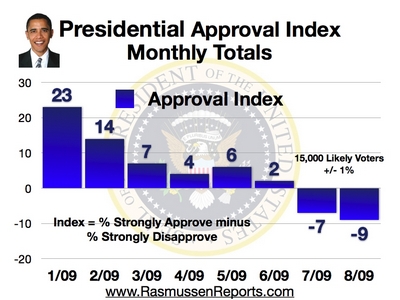 As of September 1, 2009, Rasmussen shows 30% of Americans strongly approve of Obama and 41% strongly disapprove, while 45% approve and 53% disapprove. As the chart shows, these are Obama's lowest levels to date.
And it's not just Rasmussen. CNN shows Obama is running poorly with Republicans and is also losing Independents:
"A majority of independent voters disapprove of how Barack Obama's handling his job as president, according to a new national poll.

Fifty-three percent of independents questioned in a CNN/Opinion Research Corporation survey released Tuesday say they disapprove of how Obama's handling his duties in the White House, with 43 percent in approval. That result marks the first time in a CNN poll that a majority of independents give the president's performance a thumbs-down."
Americans are concerned about more than health care. CNN's analyst notes Obama's "standing on some other issues has taken an even bigger tumble":
"Among all Americans, his rating on health care has dropped 13 points since March. Compare that to his 16 point drop on the deficit and 17 point dip on taxes and it looks like there is growing discontent with Obama's overall domestic agenda — not just his health care policy."
In addition, Obama's rating on the war in Afghanistan reportedly fell 18 points since March. That could explain his advisers' willingness to consider getting America out of Afghanistan, a war that Obama promised to fight.
— DRJ