[Guest post by Aaron Worthing; if you have tips, please send them here.  Or by Twitter @AaronWorthing.]
Since I seemed to spark a real discussion about the National Martin Luther King memorial yesterday, I figured maybe it would inform that debate to look at other depictions of Dr. King.
For starters, UC Davis has named its law school for Dr. King so it shouldn't surprise you to see that they have a statue of the man.  This is the best photo I could find of it:
This is from the University of Texas:
Actually I like that one best of all of these (and better than the one we are getting in D.C.), because it captures his spiritual nature well.  If you forget that Dr. King was a man of the cloth you ignore half of what he was.  (And that positively harms our discourse when the left pretends it is something new, unique and scary to base our laws on religiously-inspired morality.)
Not such a big fan of this one, though, in Portland.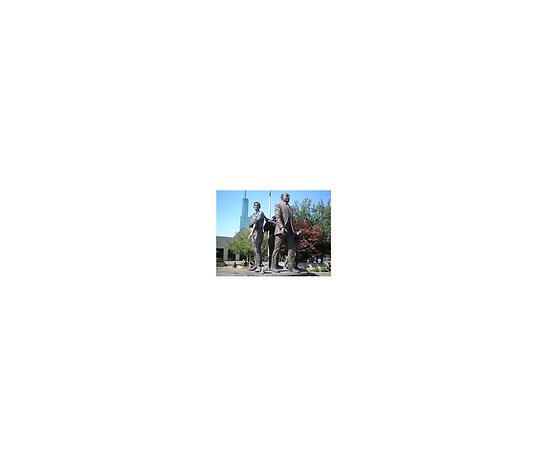 And while I think this face looks less like him…
…I like the pose and the symbolic inclusion of a book.  But I am not sure where it is (this is all from a google image search).  Also I am not sure where this is from, either:
And am I the only one who hears Seal's cover of "Fly Like an Eagle" in my head when I see this one?
I mean, let's compare.  This Seal (via this site) in the video for that song:
And this is Dr. King:
"I want to shoe the children…"
That's in Omaha, Nebraska.
And this one in Roanoke just leaves me cold.
[pic removed]
So you can see a number of different depictions.  Or perhaps the simplest approach would be something like this:
That is a scene from his "I have a dream speech."  So take that moment and as best as humanly possible, capture it in stone, and put it right on the steps of the Lincoln Memorial.  Make the photo come to life.
Meanwhile, I heard someone is coming to rescue him from the carbonite but she has been waylaid and this has happened:
So it's all good.
[Posted and authored by Aaron Worthing.]