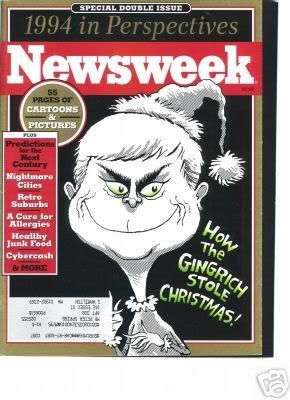 [Posted by Karl]
Lame liberal spin grew three sizes this day:
House Speaker and national grinch John Boehner is planning to spoil Christmas, White House officials are claiming, as they try to head off passage of Boehner's two-stage debt ceiling bill.

"Happy Holidays America: Boehner plan would have the debt ceiling all over again during the holiday season, which is critical for the economy," White House deputy spokesman Dan Pfeiffer declared today at 9.50 a.m.
This has become part of White House-circulated talking points.
When Newsweek and the NYT's Gail Collins launched the same sort of attacks on House Speaker-in-Waiting Newt Gingrich, there was at least some alliteration. (TIME called Gingrich "Uncle Scrooge", presumably for his advocacy of orphanages.) Moreover, coming on the heels of the 1994 midterm election, the Christmas theme was a timely hook. Trying to get people to think about Christmas in July makes the Democrats sound like they are planning a furniture sale or something. Maybe they are; even MSNBC has figured out that the Dems are losing this debate, while hoping against hope that somehow the GOP will blow it. Granted, the GOP has been known to blow it on occasion, but the left has been reduced to playing the recycled Christmas card.
–Karl