[Guest post by Aaron Worthing; if you have tips, please send them here.  Or by Twitter @AaronWorthing.]
I was pessimistic when I read this opinion piece yesterday:
KUHNER: Obama's Waterloo
By overreaching, the president has positioned himself for defeat
Jeffrey T. Kuhner
Republicans have a golden opportunity to break Barack Obama's presidency, ensuring he will be a one-termer. Mr. Obama has backed himself into a corner on the debt-limit talks; the GOP can smash his re-election prospectsif they have the will – and intelligence – to do it.
Mr. Obama has asked that the nation's $14.3 trillion debt ceiling be raised, and he knows that cannot be done without support from House Republicans. Moreover, along with Treasury Secretary Timothy F. Geithner, Mr. Obama warns that fiscal Armageddon is coming unless the ceiling is lifted before Aug. 2 – the date Mr. Geithner claims the United States begins defaulting to its debtors.
Mr. Obama seeks a "grand bargain": a debt-reduction package that includes $1 trillion in tax increases to accompany entitlement spending cuts, including Social Security and Medicare. He wants to go big. His target is to slash $4 trillion over 10 years. He has repeatedly vowed to veto any "small" debt-limit increase – one that allows America to keep paying its bills until a more comprehensive agreement is ratified. In other words, Mr. Obama has issued an ultimatum to congressional Republicans: Either break your 2010 campaign pledge not to raise taxes or else be blamed for the debt-limit debacle. As he put it, it's time to "eat our peas." The president is playing Russian roulette with the economy and our nation's future.
Yet he has badly played his weak hand. Like the dictator Napoleon Bonaparte, who sought to spread the radical French Revolution across Europe, Mr. Obama has committed a fatal mistake: overreach. The president has issued a public ultimatum that either must be upheld or he must back down from. Either way, it is Mr. Obama's political credibility that threatens to be shattered.
And you should read the whole thing and what he wrote sounds all well and good, but… I kept thinking that there was a danger that they were underestimating Obama.  I mean didn't someone say Healthcare would be Obama's Waterloo?
So I thought maybe all of this was premature.  And then I read this:
Cantor said the president became "agitated" and warned the Virginia Republican not to "call my bluff" when Cantor said he would consider a short-term debt-limit hike. The meeting "ended with the president abruptly walking out of the meeting," Cantor told reporters in the Capitol. "I know why he lost his temper. He's frustrated. We're all frustrated."
Okay, I am not even on the President's side but I feel it is necessary to do a…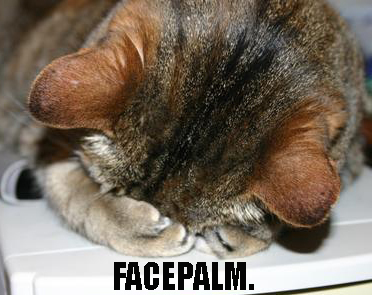 Here's a pro-tip, Mr. President.  If you don't want someone to call your bluff, don't tell them that you are bluffing.
Seriously, I long for the days when we had a President who knew how to play poker.
[Posted and authored by Aaron Worthing.]