[Guest post by Aaron Worthing; if you have tips, please send them here.  Or by Twitter @AaronWorthing.]
No, not really. The title is a joke.  But for a fleeting moment I just felt trendy.  You might have heard in the last few days where one blogger who pretended to be a lesbian in Syria turned out to be a man and, well… how about I let Mark Steyn unravel this?
We're one lesbian away from a bona fide Fleet Street "trend". Further to yesterday's post, a lesbian blogger who helped unmask the Syrian lesbian blogger as a middle-aged American male has herself been revealed to be a middle-aged American male:
In an apology to its readers, one of the other owners, Linda Carbonell, wrote: "The past three days have been devastating for all of us on LezGetReal. 'Paula Brooks' has been a part of our lives for three years now."

Mr Graber told the Associated Press news agency he set up LezGetReal to advance the gay and lesbian cause. He said he felt he would not be taken seriously as a straight man.
Yeah, tell me about it.
That is right, the person who unmasked the faux Syrian lesbian blogger is "herself" a faux American lesbian blogger, which really kind of reinforces the adage that it takes one to know one.  Now admittedly I never even heard of the two bloggers at issue so it is hard to care except for the generalized sense of amusement I feel regarding this story, but there is a deeper point, here: it's hard to know who you are talking to online.
Which means that even if Congressman Weiner didn't intentionally contact any underage girls for sexting (and I suspect Patrick is still developing evidence on that front), this is still unacceptable: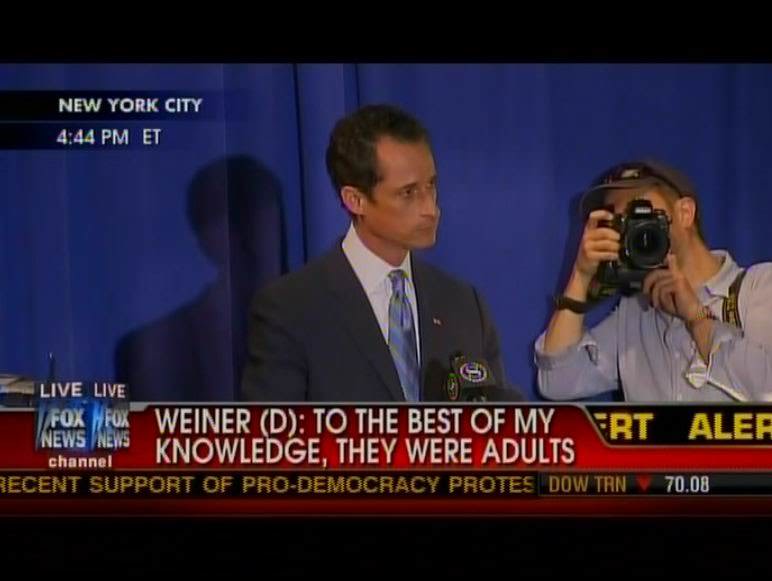 It is unacceptable because if it turns out that we can definitively say he didn't sext an underage girl (and I would be happy if that was the case), it will be purely a matter of luck.  It is, as us lawyers call it, reckless disregard of his moral (and legal) duties.
[Posted and authored by Aaron Worthing.]