[Guest post by Aaron Worthing; if you have tips, please send them here.]
Well, for starters, it looks like a number of items have been stolen from Egypt's museums, including this piece depicting King Tut: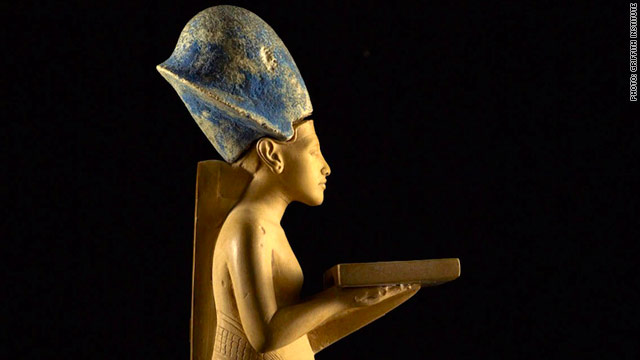 Which needless to say is very sad, because they were priceless national treasures.  Hopefully, the culprit can be caught quickly and spayed.  You can read about it (the theft and not the spaying), here.
At the same time, the military has officially suspended their constitution and suspended parliament until elections can be held.  As I said before brief periods of non-democracy can occur before establishing democracy.  But we should be appropriately cynical that the military will actually step aside when the new government is elected.  You can read about that, here.
Meanwhile Mubarak's supporters are suddenly pretending to be revolutionaries.  So the fleas and ticks have officially chosen a new dog.  You can read about it, here.  The best comedy in the piece is depicting the editor of a state run newspaper:
It was only last week that Saraya was denouncing the chaos caused by pro-democracy demonstrators. His editorial in al-Ahram on Sunday carried a very different tune.
"A salutation to the revolution and respect to its youth," Saraya wrote. "The corrupt in Egypt were only a few that led to the destruction of the country, and their era is gone now."
He then goes on to say that he now welcomes their new military overlords…
For more on how military rule is shaping up, in this article they are mentioning the potential for the outlawing of strikes, and, on the other hand, proposing constitutional amendments within a few months.
In more unambiguously hopeful news, there are protests again in Iran?  Well PBS has some coverage, as well as Pajamas Media.  It's sad that I trust an outlet called "Pajamas Media" more than most.  And Claire Berlinski, Ed. has a ton of links (especially with that newfangled Twitter thing the kids keep talking about) and admonishes the President "Obama, if you screw this one up, history will never forgive you."  He screwed it up last time, why do you think he will get it right this time?  And The Blaze has more coverage, here.  Seriously, we just saw two revolutions.  Is this possibly the third?  Only time will tell.
Of course we know who doesn't want to be the third, Gaddafi.  Which is why he is urging revolution in Palestine, because he really, really doesn't want to be next, imho.  I seem to recall he seemed pretty nervous when we pulled Saddam out of that spider hole all those years ago.  Oh I forgot the liberal spin, which is that him giving up his WMD program only within days of Saddam being captured was surely just a coincidence.  He gave them up out of the goodness of his heart…
Speaking of the influence of Bush era policies, there is also this headline in the Boston Globe: Bush program helped lay the groundwork in Egypt.  Now before you get all excited and think maybe somehow the liberal Boston Globe has decided that it cannot deny that George W. Bush has inspired all this outbreaking of Middle Eastern democracy, we are not so lucky.  They mean one single program that helped in a much less deniable way.  On the other hand, I am sure liberals will be claiming that Obama's non-commitment to Democracy has inspired all of this.
I am sure there is a lot more interesting stuff in the world, so needless to say, I am blegging for your help in keeping track of them in the comments.
[Posted and authored by Aaron Worthing.]