[Guest post by Aaron Worthing; if you have tips, please send them here.]
This is Dr. Michael Lemole.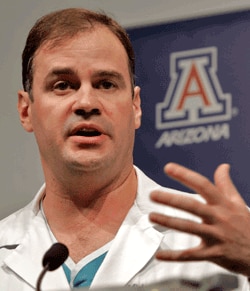 You probably have seen him as part of the team of surgeons and specialists who have been helping Representative Giffords.  One can only speculate how much of this is due to luck, divine intervention, the natural pluck of Ms. Giffords or the skill of this team, but considering that this woman was shot in the head, she is making remarkable progress and he probably deserves a chunk of the credit:
Rep. Gabrielle Giffords' remarkable progress, including standing up with the help of aides Wednesday, bodes well for her continued recovery at a Houston rehabilitation center, where she will be moved Friday, just 12 days after a bullet pierced her brain.
Latest reports from University Medical Center in Tucson indicate that the Arizona congresswoman is able to move both hands and communicate with those around her, although it is unclear if she can speak. All this indicates a high level of motor and emotional function, experts say.
"The fact that she is able to communicate, that she is able to stand and walk, the fact that she is moving both hands is a good thing," said Dr. Kester Nedd, an associate professor of neurology and director of neuro-rehabilitation at the University of Miami Miller School of Medicine.
I mean seriously, did anyone think that things would be going so well twelve days ago? And you can read a lot more about the team and what they are doing, here.  Its all interesting reading that I recommend.
So they seem to be doing well, and therefore we must…  investigate Dr. Lemole.  In fact not just Dr. Lemole, but his parents, too.  At least that is what Jose Lambiet of the Palm Beach Post thinks.  Today he has published a column exposing that his parents are (gasp) rich:
Lemole's mom and pop, heart surgeon Gerald Lemole and his wife, Emily, live in a $7.1 million house on The Island.  [A.W.: the least creative name for an island, ever.]  They also own a more modest $3.5 million house, also in Palm Beach.
He says all of this like its a bad thing.  But if you needed heart surgery, which would you prefer?  A rich doctor or a poor one?  In my book pointing out that a guy is a rich doctor is a compliment.  He is likely to be rich for all the right reasons.
Oh, and if you thought that was dumb, it gets dumber.  Waaay dumber.  Jose continues:
And while Michael is saving the life of the moderate Democratic congresswoman, Gerald and Emily are more into the far, far Right — including Tea Party goofball Christine O'Donnell!
According to campaign filings, Lemole's parents have showered with thousands in contributions — $15,700 in 2010 alone — Tea Party candidates vying for national offices.
Ironically: Among their favorites are some of the very people whose controversial rhetoric and campaigns are said to provide a fertile ground for the likes of Jared Loughner, who allegedly injured Giffords and killed six others in Tucson.
No, you jackass, there is nothing at all ironic about this.  Good and decent doctors will help people despite political differences.  I am confident that the last thing on Dr. Lemole's mind is the fact that Giffords is a Democrat.  And I have no doubt that his father feels the same way, never once caring about the politics of his patients when he treats them.
But this column says volumes about you as a human being.  First don't even get me started on your passive aggressive repetition of the blood libel that somehow conservatives inspired a pot smokin', Karl-Marx-lovin', Christian-hatin', Truther liberal to shoot a moderate Democrat.   I mean, I think Loughner's lunacy has more to do with this than his politics, but if we are going to look at his politics that's what he is and the left is stuck with him.
But apparently you are so blinkered by partisanship that you think it is normal to refuse to give a person treatment out of political vindictiveness.  Remind me again why it's a good idea for the government to run my healthcare?  I mean let's forget the real possibility that you yourself are a big enough asshole that you would refuse to help a fellow human being because of a political vendetta.  But if you really believe it is common for anyone, even if you just think it is just Republicans or Conservatives, to do that sort of thing, then shouldn't you be opposed to Obamacare and all government-run healthcare programs?  Because sooner or later, a Republican or Conservative will be in power again, and apparently by your logic, you can't trust your health in their hands.
Anyway, Jose, you are a scummy man, filled with obvious hate and McCarthyite instincts.  In denouncing the incendiary rhetoric that didn't exist, you have engaged in it.  Hopefully your employer will see fit to fire you for this bit of idiocy.  Or at least force you into a humiliating apology.
Update: Jose responds to the growing firestorm, writing:
There was no political point to Monday's Page2Live story about the parents of Dr. Michael Lemole, one of the neurosurgeons in Tucson who brought back U.S. Rep. Gabrielle Giffords from the brink of death.
He goes on to argue that all he wanted to do was highlight a local angle, "And because I wanted to know more about the Lemoles' background, I looked up their political contributions."
Except of course when he was talking about other local color (here, here and here) he made no mention of political contributions.  So why was it significant here?  Gee, I can't figure it out.
Then after engaging in hateful McCarthyism, he complains out the comments he received darkly ending with another blood libel, saying that these comments "may provide an insight in the twisted psychology of today's political discourse and make you wonder: Who's the next Jared Loughner?"
Well, given that Loughner was a pot smokin', Karl-Marx-lovin', Christian-hatin', Truther liberal, you should probably be more concerned about your supporters than your detractors.
[Posted and authored by Aaron Worthing.]