[Guest post by DRJ]
The Administration is limiting President Obama's exposure to the White House press corp:
"After months of what some critics called overexposure, President Obama has of late avoided questions from the White House press corps at large, closing the Oval Office to traditionally informal question-and-answer sessions with reporters and pulling back from the fast pace of news conferences he established when taking office.

The president, whose job-approval ratings have been on a steady slide, hasn't held a formal news conference in 19 weeks, since July 22. That one ended badly, when Mr. Obama waded into a racial controversy by saying a white police officer "acted stupidly" when he arrested a black Harvard professor."
Obama reportedly also limited media questions during press conferences on his Asia trip and during the Indian Prime Minister's recent visit to Washington. Further, there were no press or photographers allowed in yesterday's White House visit by Australian Prime Minister Kevin Rudd.
Of course, "overexposure" is fine when the polls are good. This is the real problem: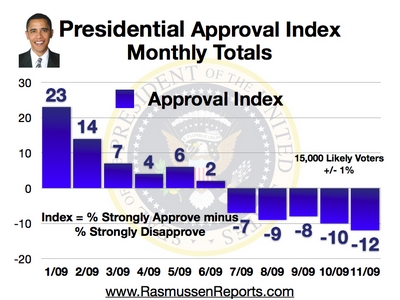 – DRJ